Covid-19 Guidance for Couples and Guests Attending Ceremonies at The Register Office at City Hall, Cardiff.
This information is aimed at couples and their guests. It is important that everyone attending the Register Office knows what to expect to keep us all safe and stop the spread of coronavirus.
Showing symptoms?
Anyone showing any Covid-19 symptoms must stay at home. The symptoms include:
• A high temperature 38˚C or above
• A persistent cough or shortness of breath
• Loss of smell or taste
Restricting the number of people who can attend a ceremony
For ceremonies taking place in the St David's Room in the Register Office City hall, the maximum number of people permitted in the ceremony room has been established as 55; this number includes the two Registrars and the couple and a photographer.
Therefore, the couple plus 50 guests can be invited to attend ceremonies (two of these guests will be your witnesses). If an interpreter (e.g. foreign language or BSL) is required please let us know. The restriction on 50 guests is non-negotiable.
For couples who have booked the St Dwynwen's Room for their ceremony, the maximum number permitted will be 10 guests plus a photographer. This will be in addition to the couple. If you have an existing booking and would like to upgrade to the St David's Room (50 guests, enhanced ceremony options) then please contact us for advice. Additional fees will apply.
 Keep your distance
 Couples and guests should come to the front of City Hall and will only be admitted at the agreed time as there will be no waiting allowed within the building. Early arrivals will be asked to return at the correct time and late arrivals may not be able to enter. To meet social distancing requirements all guests will be seated 2m apart in the ceremony room. We ask all guests to remain outside until they are invited in to the building and everyone will be asked to leave the building when the ceremony has finished. We cannot allow guests to gather and photographs are not permitted in communal areas.
Good hygiene
Everyone attending the Register Office must sanitize their hands on arrival using the hand sanitizing stations provided. We will also ask couples and their witnesses to sanitize their hands before signing the register. We ask that everyone avoid touching surfaces as far as possible.
We kindly request the cooperation of everyone attending the Register Office; anyone not following the guidance will be asked to leave and the Registrar reserves the right to suspend a ceremony.
If you have a booking with us and would like to discuss your options, please get in touch on 029 2087 1680 / 4 or ceremonies@cardiff.gov.uk
As the capital city of Wales, Cardiff is an ideal destination for your ceremony.
Whatever the occasion, whatever your style, Cardiff has something to suit everyone, from historic castles to more intimate venues, and everything in between.
If you're getting married, forming a civil partnership or renewing your vows, you will find everything you need here in Cardiff.
Planning Your Ceremony
There is so much to think about when it comes to planning your big day. We are here to make sure things run as smoothly as possible.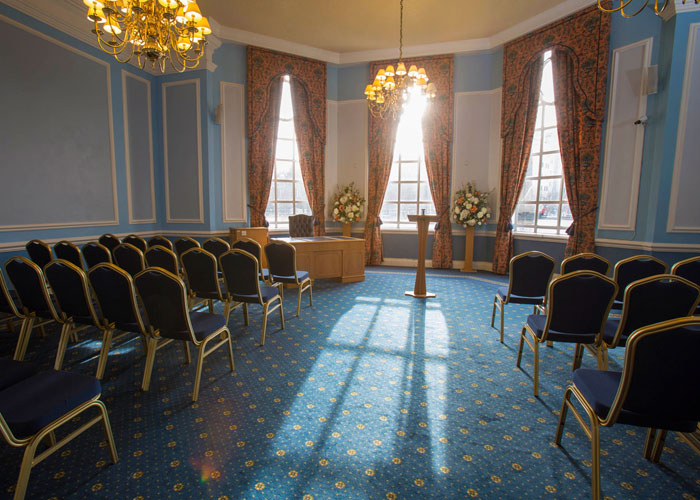 Register office
Whatever you have in mind for your special day, we will do all we can to accommodate your wishes.
Approved venues
There's a wide range of venues in and around Cardiff that are licensed for civil marriages, civil partnerships and other occasions.